This Electrical Body Massager will exercise and stimulate your body muscles right from the comfort of your own home. It will bring you the desired relief from ache you might experience in your shoulders, back, hands, foots, legs, waist as well as any other part in your body. Highly convenient to use with no stinging or prickling feelings. It also has a low frequency waves which helps beautify your skin and restore its flexibility.
The electric acupuncture pen provides the precision for acupuncture treatment, while keeping the treated areas in the utmost comfort and relaxation. It can also be used to stimulate small parts in the body like fingers or knuckles.
Electrical Body Massager has a digital LCD control system with 3 massage techniques and 4 pre-programmed auto-massage modes, you have full control on usage mode, speed and time. This massage combination provides you with much more effective muscle exercise, stimulation, pain relief as well as acupuncture treatment.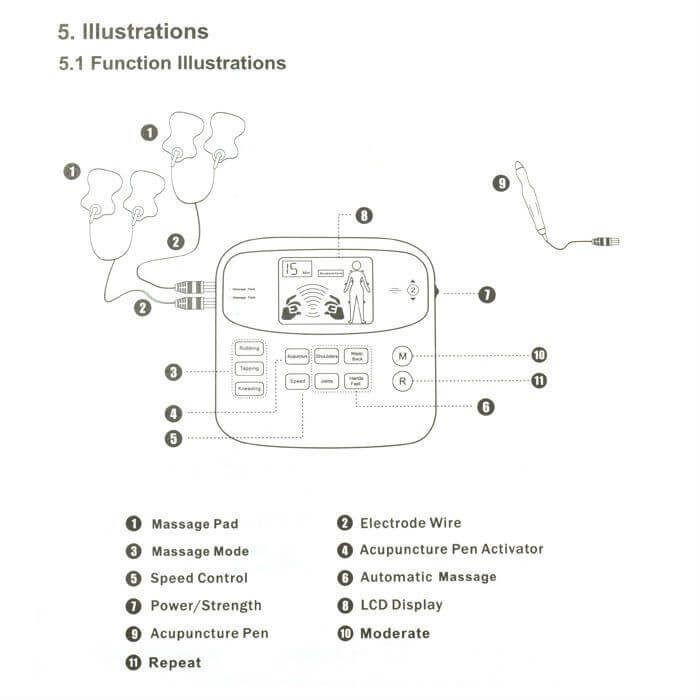 Electrical Body Massager comes with 4 adhesive electrode Pads, 2 electrode wires and 1 acupuncture Pen. This is a great value package you can give to yourself or your loved ones for a beneficial relaxation and treatment.
Package Includes:
1 x Electrical body massager
1 x Acupuncture pen
2 x Electrode wires
1 x English user manual
Please note: Skin gel and batteries are not included in the package.
Specifications:
Color: white
Power supply: DC 3.0 V
Output frequency: 1-100Hz
Electrode pad lasts long time, around 30-50 times. You can also order more here
Size: L 130 mm x W 127 mm x H 27 mm
Power: 2 × AAA batteries (not included)
Net weight: 200 grams
Please allow 2-3 cm error and slight deviation for the measurement data.