Men need a tool like this to accompany them when they engage in sports or any other activities that requires optimal health. This is so important since it allows them to monitor their heart rate.
Waterproof Heart Rate Monitor Watch
There are already existing sports watches out there on the market but none does it really well. By well we mean a watch that could provide you with the things that you need in just one product. Men who are into sports and things which are similar needs sports watches which are also waterproof, multi-functional and touch sensitive. These features are very vital and you need to look into these features before deciding to buy your very own sports watch because we don't want you to spend your money into something that is not worth it and something that does not allow you save your dollar bills, your time and your effort. You need something that does the entire job for you. You must choose a sports watch that you could also use even when you are not partaking in a sport or what not. A sports watch should be flexible in order for you to monitor your health even if when you are in your day job or any type of activity that you engage in aside from sports. Also, a sports watch which is not waterproof is no use since it limits the people who are engaging in water sports to use it. Swimmers could not use this kind of watch if it is not waterproof, divers could not make use of this device as well. So this means that a sports watch should really be waterproof to cater all the sports that men play.
How the Waterproof Heart Rate Monitor Watch works:
Press "Mode" to select Heart Rate Detection mode
Place your middle finger and forefinger on induction zone as shown in picture
Your heart rate beat/minutes as well as heart rate percentage will display in 15 seconds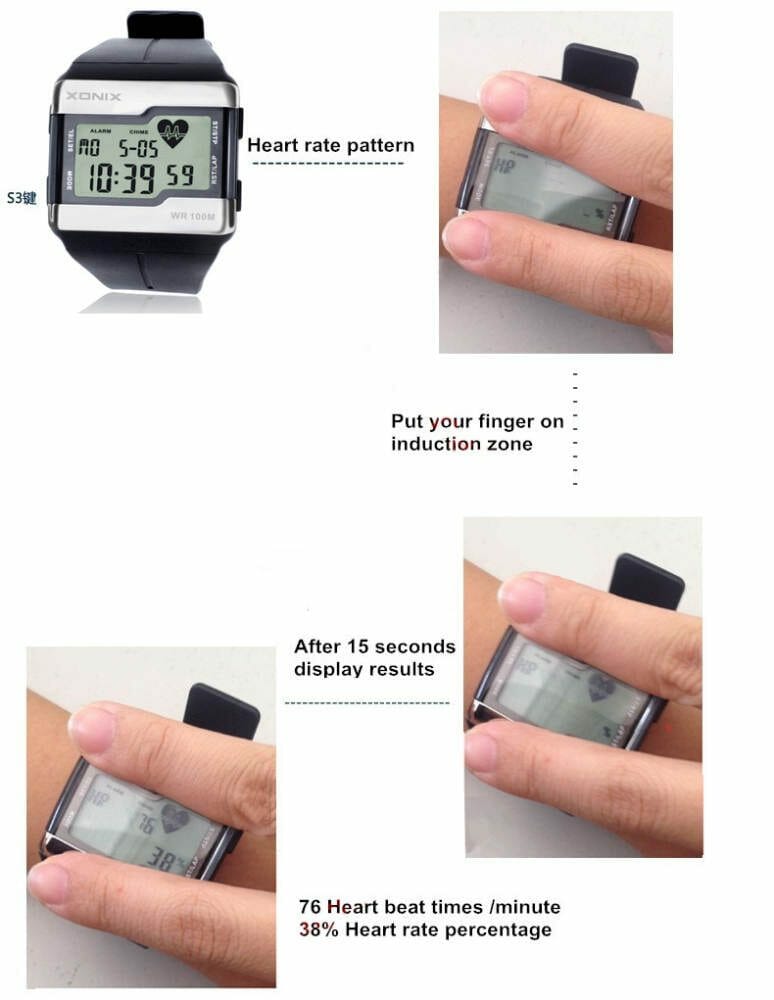 This Heart Rate Monitor Watch is very useful to sports enthusiasts since it is waterproof therefore; there is no limit in the sport or activity that you engage in. Even swimmers and divers could make use of this. Its water resistant depth is 10 bar which really allows diving enthusiast to use this. Its band material is rubber so that it would still be fine even if you engage in water sports. It also has a buckle that allows you to adjust it on your own preference. Even if this is waterproof, it is still digital therefore it also caters the advancement in technology which is a huge plus to everyone engaging in sports.
Sports enthusiast, be more enthusiastic and buy one now!
Band Length: 24.5cm (9.6″)
Band width: 28mm
Case thickness: 15mm
Included in the packaging: 1 x Heart Rate Monitor watch, and 1 x User Manual